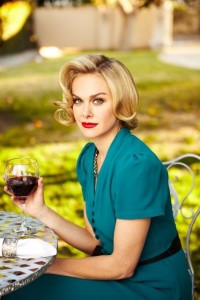 Debuting at age 9 in the Radio City Christmas Spectacular was the beginning of Bundy's career as a professional entertainer. Since then, she has originated the roles of "Tina Denmark" in Ruthless The Musical, "Amber Von Tussle" in Hairspray, "Elle Woods" in Legally Blonde, and took a turn as "Glinda" in the smash hit Wicked. She has earned numerous nominations for her performances, including a Tony Award nomination for Best Performance by a Leading Actress in a Musical, an Outer Critics Circle nominations, and Drama Desk nominations.
In addition to dominating Broadway stages, Laura Bell has also been spotted in front of the camera, appearing on network television shows such as Angie Tribeca, Idiot Sitter, Scream Queens, Documentary Now, Royal Pains, Cold Case, Veronica Mars, Home Improvement, Malibu Country, "Marah" on Guiding Light, "Becky" on How I Met Your Mother, "Shelby" on Heart of Dixie, " Ginger" on Fuller House and her leading role as "Dr. Jordan Denby" on Anger Management opposite Charlie Sheen. Laura Bell's film work includes Dream Girls, Jumanji, Life with Mikey, The Adventures of Huck Finn, Home Is Where The Heart Is, After The Reality, Beauty Mark, CMT's To The Mat, Hallmark's Dear Dumb Diary, Up's Season's Greetings, and Lifetime's Becoming Santa.
Throughout her time on Broadway, television, and film, Bundy remained true to her roots. With country music in her DNA, she began song-writing at the age of 14 and started her first band at 18.
Laura Bell's 2010 album on Universal Records, Achin' and Shakin' debuted as Top #5 albums on The Billboard country music charts. Laura Bell penned all but one of the songs on the album. Her breakout hit from the Shakin' set was "Giddy On Up" which reached #31 on the U.S. Billboard Hot Country Charts and landed her a show stopping performance on the 2010 Academy of Country Music Awards. She was nominated for CMT Breakout Video of the Year with "Giddy On Up." "Achin & Shakin" earned a Gold Record in Norway and eventually led to her touring in Europe and internationally. Her 2013 single with Big Machine Records, "Two Step" featuring Colt Ford, answers the age-old question of what happens when you combine HOT, country, dance tracks and hip-hop beats. Bundy was featured in Rolling Stone for being the first female country artist to incorporate hip hop and dance beats into her music. Her 2015 Big Machine album was released to rave reviews and her single "I Am What I Am" was Top 10 in Australia's Country Music Charts and was heavily rotated on CMT. Laura Bell wrote, directed and produced all four of the music videos for this album.
LBBTV is Bundy's production company that was founded to forge her own creative path and to pursue an overflowing whiskey barrel of comedic and musical ideas. She has launched successful web =series such as Cooter County and Skitso-Frenic. She is currently writing and developing several television and film projects.
Laura is a spokesperson for the American Heart Association and has written about her experiences with having a congenital heart defect in the Huffington Post.  See more at www.laurabellbundy.com
Back to the Producers