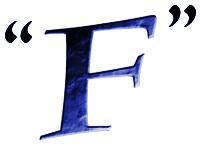 ---
Love Is Afoot! is based on the international award winning short film, "F."  laceyface productions produced the film noir comedy short, "F" in 2006. The movie won several international awards on the film festival circuit. It was honored in all of the 7 of the festivals entered, including winning the grand prize at 3. The movie won the adoration of Tom Schiller, acclaimed Saturday Night Live writer and director from 1975 – 1990, and is now the inspiration behind the full-length musical adaption entitled "Love Is Afoot!
---
Executive Producer:  laceyface productions
Writers:  Michael LaFata & Perry Sachs
Director:  Perry Sachs
Year:  2006
---
F  STORYLINE
Set in the 1940's and filmed in black and white; this dark comedy chronicles the life of Joseph Smoot-Nibbley, a decent man struggling with his indecent desire for feet. Hidden below the city streets from a society that shunned him away, Joe tells his own story of love and rejection.
---
F   THE TRAILER
---
F  THE DVD COVER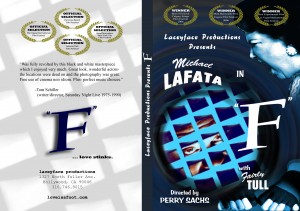 ---
F  THE AWARDS