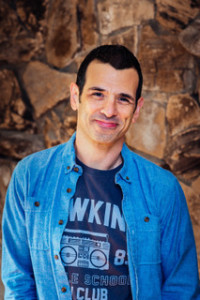 Perry came to Los Angeles from Washington D.C. in 1994. With his razor-sharp wit, gregarious personality and penchant for off-color subjects, he found his home away from home at the Groundling Theater and Acme Comedy Theater. While in the midst of his comedic training, Perry, and three of his closest friends, founded the sketch group The Joke Pimps. The Joke Pimps wrote and performed their material at comedy clubs around Los Angeles and were regularly seen at the world famous Comedy Store on Sunset Boulevard. At the end of the '90s, The Joke Pimps disbanded as a sketch group but the relationships, both creative and personal, remained strong.
Perry spent the early years of the new millennium in production while continuing to take on a steady flow of writing jobs. His unique perspectives and keen ability to turn mundane to insane have allowed him the privilege of juggling multiple writing projects simultaneously. Whether he is contributing to Saturday Night Live or writing an episodic sketch show for The Jim Henson Company, Perry delivers hilarity.
In 2005, Perry produced and directed a noir-style, dark comedy short film entitled "F" that he also co-wrote with his longtime writing partner (and fellow Joke Pimp alumni) Michael Lacey. "F" entered the international film festival circuit in 2006. The film was awarded various accolades in all 7 of the festivals it entered, including winning the grand prize at 3 of them. Additionally, the piece won the attention and adoration of Tom Schiller, acclaimed Saturday Night Live writer and director from 1975-1990. Perry and Michael are currently developing "F" into the musical feature film, Love Is Afoot!
Continuing on the producer/director's path, in 2007, Perry became a producer/director for Nickelodeon, in charge of the "Behind the Scenes" web content for a multitude of Nick's programming. It was Perry's relationship with Nickelodeon that allowed him to go on to co-write a television pilot starring Nickelodeon's Drake Bell and produce his first feature film with yet another Nick standout, Jerry Trainor. Perry's infinite supply of concepts and capers attracts budding stars like moths to a comical flame. Perry's experience on both sides of the camera brings a trust and partnership to his professional relationships and quickly converts co-workers into life long friends.
Since 2008 Perry has been lucky enough to use the richness of his past experiences to co-create, write, produce and direct for major players in the world of comedy. Seeing his visions come to life is the fuel that fires his wild imagination and keeps him firmly on the path to sidesplitting greatness.  See more at www.ffprods.com